Advertisement

Source: Beach Broadcast | By Santa Surfing
28 April 2021
Judge Martin denys Dems TRO/ Kerry exposed/ Tucker said what?
VIDEOS
Advertisement

DEMS TRO FILED TO STOP AUDIT IS DENIED
Judge Martin held a LIVE conference call with Democrats opposed to the Arizona Audit. He ordered the TRO is denied and Audit will continue!
Welp, the Democrats are trying everything to prevent this audit. Maybe they thought this Judge would be lenient to them and they left this online meeting with no wins! Temporary Restraining Order is Denied! Audit Continues! The Dirty Dems tried to prevent this audit and the judge ordered the Dems to come up with $1M and the Dems couldn't or wouldn't pay for this! Hmmm….is the Dem party broke?
JOHN KERRY EXPOSED
ISN'T THIS TREASON??? And Biden isn't doing a thing! And why haven't the FBI / DOJ done anything?
Wasn't Kerry a facilitator to the Biden Bribe with Ukrainian Poroshenko? At the 3:45 Minute Mark of this Biden Bribe compilation clip, audio is of John Kerry coordinating the deal with Biden. The Biden, Barry faux administrations keep destroying America.
WALL STREET BANKER COMMITS SUICIDE
Advertisement

What is the real story behind this?
Interesting….because earlier this year, IVA quietly liquidated its assets and closed its doors. The media sure kept that news out of the headlines! It looks like IVA faced a 25.9% loss. Shareholders cashed out. Mixed stories about de Vaulx exit to IVA, however, this story is far from over, I sense something bigger is happening.
Remember on May 26 and May 27, the CEO's of the Big Banks are "hauled" before Congress and the media isn't releasing any of this information! Something very big is brewing!

TUCKER SAID WHAT???
Then Tucker says this earlier this week…
Beach Broadcast is fighting for conservative voices and have a meeting tomorrow so I will not have a show on Thursday 4/29/2021. I will miss you all and will be back on Friday.  
JOY AND FAITH PLEASES GOD!
If we could just shut off the news for the next month, we wouldn't have a worry in the world. God is so pleased when we have faith! He knows we are working hard to share the truth every single day! Your fight to do so has been a strong force in this movement.
Sometimes it is good to just check out and do something different.  Beautiful.  Loving.  Watch a comedy.  Write a positive message. Take a walk at a park and enjoy God's beauty.  
When we have that beautiful spirit filled joy in our hearts, you will experience incredible peace within. Most of us know how this movie ends for the bad people, and how it begins for the good people! This movement is all about saving sweet, little innocent lives and for Humanity!
Advertisement

I'm closing with this young child's joy and faith: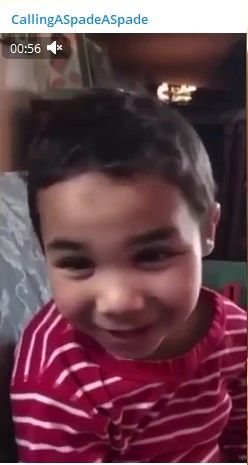 ______________________________________________________
Contact Author
If you wish to contact the author of this article. Please email us at [UniversalOm432Hz@gmail.com] and we'll forward your email to the author.
______________________________________________________
Guest Posting
If you wish to write and/or publish an article on Operation Disclosure all you need to do is send your entry to [UniversalOm432Hz@gmail.com] applying these following rules.
The subject of your email entry should be: "Entry Post | (Title of your post) | Operation Disclosure"
– Must be in text format
– Proper Grammar
– No foul language
– Your signature/name/username at the top
______________________________________________________
Advertisement

Newsletter
If you wish to receive the daily Operation Disclosure Newsletter, you can subscribe via the PayPal "Subscribe" button located on the site.
______________________________________________________
Our mission at Operation Disclosure is to get you up-to-date on the latest conspiracies and to provide raw unvetted information from various sources. We are also focused on disclosing extraterrestrial contact and humanity's lost ancient origins.
Disclaimer: All articles, videos, and images posted on Operation Disclosure were submitted by readers and/or handpicked by the site itself for informational and/or entertainment purposes. All statements, claims, views and opinions that appear on this site are always presented as unverified and should be discerned by the reader. We do not endorse any opinions expressed on this website and we do not support, represent or guarantee the completeness, truthfulness, accuracy, or reliability of any content posted on this website.
Copyright © 2022 Operation Disclosure
Advertisement